Traditional & Tankless Water Heaters, Installed Throughout Bergen County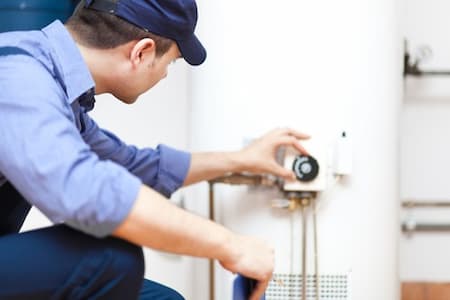 As the premier plumbers serving the Bergen County area, Martin Masters Plumbing, Heating, & Air Conditioning, Inc. is the name you can trust for all of your water heater service needs. With our years of experience providing local homeowners with the water heater services they need to maintain comfort and convenience in their homes, we're the skilled plumber in Bergen County you can turn to, whether the issue you're facing is severe, or just something minor. Are you looking for a professional Bergen County plumber who can provide you with the comprehensive water heater services you need for your home? If so, give our team of experts a call today and let us show you the level of quality service that's helped make us one of the most trusted names in water heater services and plumbing repairs the area has to offer.
Traditional Water Heaters
Traditional water heaters are a common feature found in most homes throughout the country. Traditional water heaters work by storing up a large tank of water and keeping it heated so it's ready when you have need of it. If you're looking for a skilled plumber who can help you find and install the perfect new traditional water heater for your home, give our skilled water heater service pros a call today.
Tankless Water Heaters
Tankless water heaters are a relatively new advancement when it comes to residential water heaters. In contrast to traditional tank water heaters, tankless water heaters don't preheat water in preparation for later use, and instead heat your water as it passes through your system. In effect, this means that you never have to worry about running short on hot water with a tankless system. If you're interested in switching to a tankless water heater system for your home, give our team of skilled plumbing pros a call today and let us help you get started.
Water Heater Replacement & Installation
Like most other appliances in your home, your water heater has a finite lifespan, and at some point or another, you're going to find yourself in need of a water heater replacement. When it comes time to replace your old water heater, give the skilled plumbers at Martin Masters Plumbing, Heating, & Air Conditioning, Inc. a call and let us provide you with the help you need to find the right new water heater for your home and give you a quality installation that will set your new unit up for success in the years to come.

What Our Clients Say About
Martin Masters Plumbing, Heating, & Air Conditioning, Inc.
I was very pleased and appreciative of the service that Armando provided to me. He arrived on time, completed the work in a very timely manner, and left my furnace room in pristine condition. He explained what he needed to do and showed me the final result. I highly recommend him for his professionalism, efficiency, and kindness. Martin Masters, Inc. is the best - I will always call them for any plumbing needs in my house [...]
David Elias did an exceptional job in installing our new water heater. Not only was he prompt, arriving first thing in the morning as expected, he was polite, very knowledgeable and extremely clean and neat when dragging out the old and installing the new one. I would highly recommend Martin Masters, Inc. and especially David Elias! [...]
Contact Us
So if you are looking for a professional service provider in the Bergen County area, then please call us at 201-447-5711 or complete our online request form.